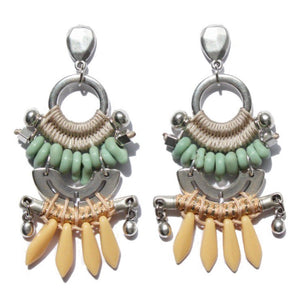 Very close to the Catatumbo National Park, is Hacarí, a small town surrounded by mountains and steep streets.
They are long and lightweight earrings, made with a central zamak hoop, a braid of taupe rayon thread, crystal beads from Ghana (Africa) in aqua green tones, a semicircle of zamak, metallic cord and dagger shaped beige Czech glass beads. 

All the silver pieces are in zamak (aluminum, magnesium and copper alloy) with a silver coating. They are nickel free.

The earring pin is made of titanium in order to avoid any allergy.

Measurements: 7cms long and 3cms wide.

Designed and handmade in Barcelona.