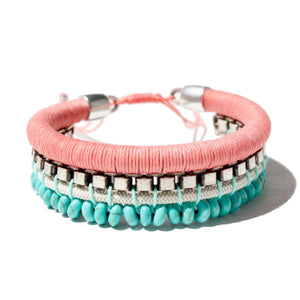 Cacagualito is a path in the Sierra Nevada de Santa Marta, very close to Tayrona National Park (Colombia). 
This colorful bracelet is made with a thick cord lined with salmon rayon thread, decorated with a square zamak chain, a sand cord, mint green thread and turquoise howlite roundels. The closure is adjustable so it can be worn on any wrist. Give your outfit a cheerful pop.


All the silver pieces are in zamak (aluminum, magnesium and copper alloy) with a silver bath coating. They are nickel free.

The size can be customized and the sliding knot can be changed for a magnetic clasp.

Designed and handmade in Barcelona.