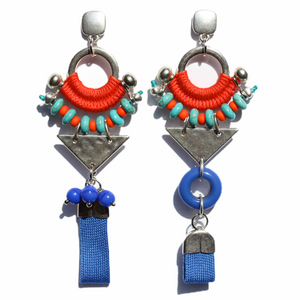 Cuira is the name of a small town in the heart of the Colombian Amazon rain forest. These earrings are inspired by macaws, tropical birds with colorful feathers that live in the rain forest.
 They are made with a central zamak ring and woven with a red rayon thread using artisanal basket-weaving techniques. They are decorated with turquoise howlite roundels, matte red Czech glass seed beads, royal blue crystal beads, a blue-toned Venetian glass donut, a triangular piece of zamak and a hydrangea blue Japanese ribbon.
They are very light and add a cheerful pop to any outfit.
All the silver pieces are in zamak (aluminum, magnesium and copper alloy) with a silver coating. They are nickel free.

The earring pin is made of titanium in order to avoid any allergy.

Measurements: 9cms long and 3,5cms wide.

Designed and handmade in Barcelona.