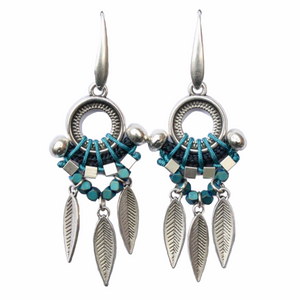 Near the Colombian Pacific Ocean, Jaragua finds itself hidden in the lush tropical jungle.
These are ethnic earrings Inspired by the birds that live there. They have a circular centerpiece, decorated with navy blue nautical cord, iridescent matte Czech glass beads, square zamak beads, rayon thread and feather pendants. The hook makes it very easy to put on.
All the silver pieces are in zamak (aluminum, magnesium and copper alloy) with a silver coating. They are nickel free.

Measurements: 7cms long and 2cms wide.

Designed and handmade in Barcelona.