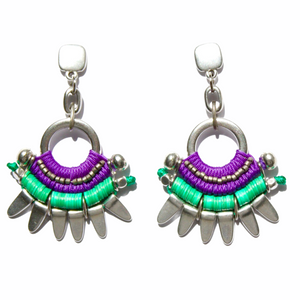 According to the Makiritare legend, the god Wanadi created the Orinoco River by tracing a grove on the ground with two of his fingers, bringing forth water to mankind.
This earrings are made with a central zamak ring and woven with a purple rayon thread using artisanal basket-weaving techniques. They are decorated with emerald green African vinyl discs, embroidered Miyuki beads and petal-shaped pendants.
They are very light and add a cheerful pop to any outfit.
All the silver pieces are in zamak (aluminum, magnesium and copper alloy) with a silver coating. They are nickel free.

The earring pin is made of titanium in order to avoid any allergy.

Measurements: 6cms long and 4cms wide.

Designed and handmade in Barcelona.