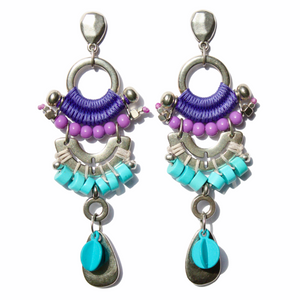 In the land of the indigenous Kuna tribe is Unguía, a small Colombian town in the heart of El Darién, an area of outstanding beauty near the border with Panama. It is very close to a sea with crystal clear waters and white sand beaches. These long and colorful earrings are inspired by the colors of the sky in this magical place.
These earrings are made with a central zamak ring and woven with a violet rayon thread using artisanal basket-weaving techniques. They are decorated with lilac crystal beads, a semicircle metallic piece, turquoise roundels, tear shaped pendants, and rubberized turquoise helix pendants.

All the silver pieces are in zamak (aluminum, magnesium and copper alloy) with a silver coating. They are nickel free.

The earring pin is made of titanium in order to avoid any allergy.

Measurements: 9cms long and 3,5cms wide.

Designed and handmade in Barcelona.

   
COMBINE IT WITH
GUATAPURÍ the matching bracelet