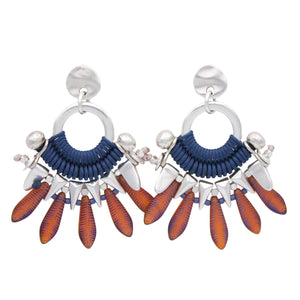 The Utría Cove National Park is a paradise located in the tropical rainforest of the Colombian Pacific Coast, very close to the Serranía del Baudo. It is considered one of the most biodiverse areas on the planet, since it contains a great variety of ecosystems, both of marine and jungle life. It is also home to unique animals and plants in the world.
These earrings are made with a central zamak ring and woven with a navy blue rayon thread using artisanal basket-weaving techniques. They are decorated with petal-shaped pendants, triangle shaped spacers, Miyuki seed beads and iridescent laser print crystal daggers. 
They are very light, very versatile, and can be used in all seasons.
All the silver pieces are in zamak (aluminum, magnesium and copper alloy) with a silver coating. They are nickel free.

The earring pin is made of titanium in order to avoid any allergy.

Measurements: 6cms long and 4cms wide.

Designed and handmade in Barcelona.